Product Description
What is MIG welding process?
MIG stands for metal inert gas (MIG) welding or metal active gas (MAG) welding, is a welding process in which an electric arc forms between a consumable wire electrode and the workpiece metal(s), which heats the workpiece metal(s), causing them to melt and join. Along with the wire electrode, a shielding gas feeds through the welding gun, which shields the process from contaminants in the air
We export this MIG welding machine in big quantity with a big range. Now we are looking for distributors.Hope you join us. Get interest of this,please send us inquiry by click here
200A aluminium pulsed MIG welding machine
WHY CHOOSE THIS MIG WELDER
The MP200 inverter MIG weldling machine is a professional level multi process welder ideally suited for the DIY enthusiast to professional welder or fabricator. It is a compact, 3-in-1 welding solution. It is single-phase inverter power source ,that is also multiprocess-capable,bringing together MIG - MIG / PULSE - MIG / NO GAS - MAG - TIG DC LIFT –TIG DC LIFT PULSE- MMA DC-MMA PULSE DC in a single device . The MP200 is characterised by the intelligent design of the device, ease of use, synegic and a high level of reliability. Machine itself Weighing only 10.5 kg, it is also one of the lightest welders on the market.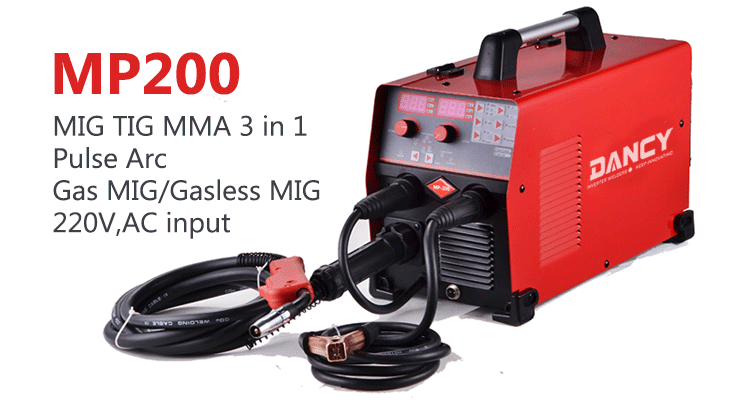 MODEL

MP200 MIG MAG TIG MMA PULSE welding machine

Voltage

220V+15%,AC,50~60HZ

Power consumption max.

MMA 6.5KW,MIG 5.9KW,TIG 4.2KW

No-load Voltage

75V+5V

Welding current

MIG 20-200A,TIG 5-200A,MMA 20-200A

Rated input current

MMA 29.5A,MIG 26.8A,TIG 18.5A

Rated input voltage

MMA 28.0V, MIG 25.0V, TIG 18.0V

Power factor

0.8

Duty-cycle

60%

Insulation class

IP21S

Protection class

F

Machine Net Weight

10.5kg

Carton size

51.5X32.5X34.5cm (1pc machine is packed into a carton)

Loading quantity

480PCS/ 20FT , 1170PCS/40HQ

Advantage

Allows the operator to choose standard or 4T trigger method
reversible polarity for gas and gasless mig wire use.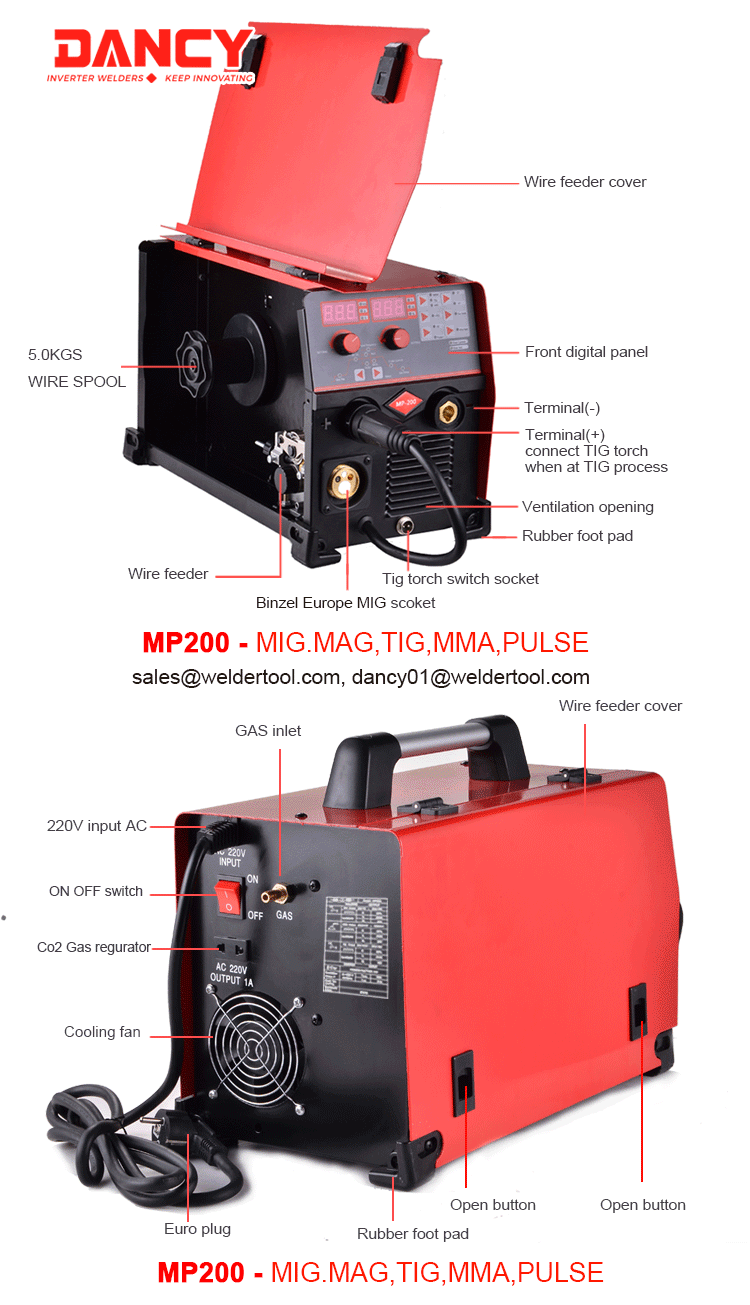 The MP200 contains all you need to MIG weld in one small lightweight package. With easy operation of switch, it is a versatile welding machine, all processes are available to meet the application at hand,that provides the following welding functions: MMA, TIG, pulse TIG, MIG, single pulse MIG. It is widely used for a variety of materials, like low and high alloy steel, carbon steel, stainless steel, aluminum and aluminum magnesium alloy, copper and copper alloy, and special metal materials.
The forced PULSE achieves an ultra fast transfer droplet rate into the weld pool improving production results. Higher speed, better penetration and less spatter means less energy used during the deposit and reduced deformation during the welding.
Main features
1. Latest European IGBT Inverter Technology
2. High Speed Synergic Pulse MIG
3. High Speed MIG/MAG
4. DC TIG with Manual and Synergic Programs
5. MMA with Manual and Synergic Programs
6. VRD Safety (Voltage Reduction Device)
7. Selectable trigger configuration allows the operator to choose standard or 2T trigger method
8. Adjustable preflow and postflow gives operator better control of the gas parameters affecting weld zone.
9. Variable Start Current and Crater Current
10. Simple selection of welding programs
11. Simple interface for easy operation
12. Accepts wide voltage supply variations (170-270V)
13. Large graphical display: guides user through process and parameter setup with ease and high visibility.
14. Thermal Overload Protection shuts down unit and activates over temperature light if airflow is blocked or duty cycle is exceeded. Automatically resets when fault is corrected an
Product Overviews
We are one of golden manufacturer for inverter welding machines in China,produce a big ranges of welder,like MIG welder,MMA welder,TIG welding machine,plasma cutter.We are looking for distributor.Hope you join us.
Get interest of this,please send us inquiry by click here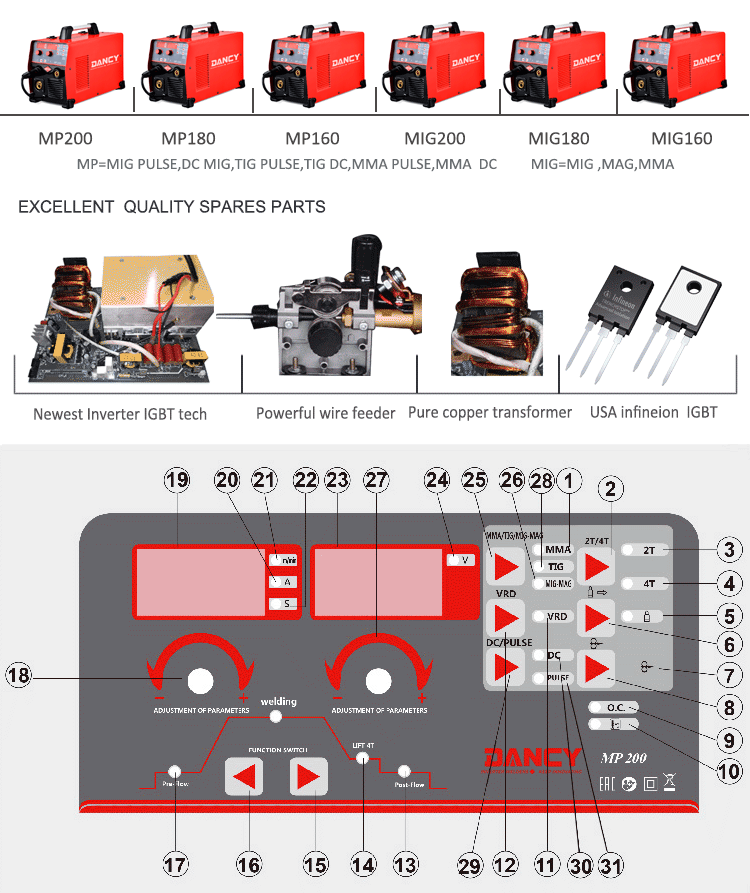 1. MMA: MMA mode enabled
2. 2T / 4T mode selection button
3. Indicator: 2T mode is on
4. Indicator: 4T mode is on
5. Indicator: gas flow
6. Gas check button
7. Indicator: idle wire run
8. Idle Wire ( Idle speed ) Button
9. Overload indicator
10.Overheat Indicator
11.Indicator: VRD mode turned on
12.VRD mode button
13.Indicator: the gas continues after arc stopped
14.Indicator: Lift arc with 4T mode on
15.Function choose buttom
16.Function choose buttom
17.Indicator: gas supply
18. Selection knob: welding current(A), wire run speed and gas delay time
19. Digital indicator: displays amperes, wire run speed and gas time delay
20.Indicator: indication of the welding current
21.Indicator: indication of wire feed speed
22.Indicator: indication of the time delay
23.Digital indicator: indication of voltmeter
24.Indicator: indication of digital indicator-voltage
25.MMA / MIG-MAG welding mode selection button
26.Indicator: welding mode MIG-MAG
27. Selection knob: welding current(A), wire run speed and gas delay time
Customer feedback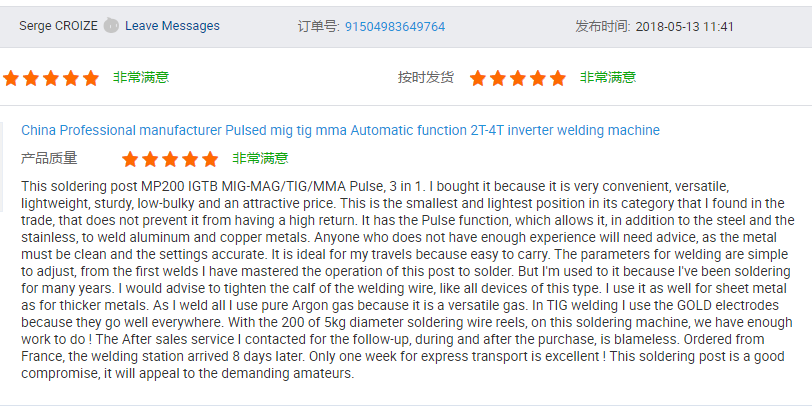 Related Products(If you are interested , please click the blue word)

NBC 350 NBC 500 NBC 270 MIG 350

Packaging & Shipping

Packaging

Packaging Details

1. 300A electrode holder with 2m welding cable
2. 300A earth clamp with 2.0m welding cable

3. Quality MIG torch with 3.5m welding cable
3. Steel brush 1pc
4. Welding helmet 1pc

5. color box size:51.5X32.5X34.5CM,1pcs/ box

HS CODE

85159000.00

Shipping information

Carton SIZE:51.5X32.5X34.5CM

Quantity: 1pc/ carton

Net weight/ gross weight: 10.5KGS/15.5KGS

Loading quantity:480pcs/20 FT, 1170pcs/40HQ

Delivery time

25-35days for repeated order,

35-45 days for new order.

sample delivered in 5days.
A collection of frequently asked questions.
Questions are related to our products,company basis,service,delivery,warranty,etc
1.Are you a trader or manufacturer?
We are professional manufacturer and trading office together.
2.Are you happy to work with small size customers?
Whenever you run a big business or own a small shop,you are welcome to contact us.
3.Why choose DANCY as our partner ?
-SERVICE -R&D-HIGH QUALTITY-MANAGEMENT
You will know more about our factory by click "OUR ADVANGTAGE" to check
4.Are you competitive suppliers? How to distinguish supplier competitive or not? Can I have qualified products on affordable pric
• We are your golden supplier certified by ALIBABA company,trusted competitive supplier,offer excellent products with perfect service.
• We have our own excellent sales staff ,Senior engineers,skilled worker and advanced equipment,big warehouse and clean building.Big sales quantity and updated technical spread our administration cost,that help to reduce our cost.
5.Can you help to source products for me from other suppliers? Do you offer inspect service?
• Yes,of course.We can.
• If custoemr inquire it,our experienced purchasing staff and senior engineer are happy to offer a completed source and inspect service,guarantee a better source job.
6. What is Warranty?
Usually,we offer 24 months warranty for each shipment since the shipping date.We are responsible for the problem because of our factory.
7.What is delivery time?
For first order of new customer, it is35-45 workdays.
For repeated order,it is 25-35workdays.It is negotiable
Company Information
About our factory
We are a competitive manufacturer in China,are professional to produce inverter welding machines with more than 8 years experience.We own clean and capacious building for workshop and office,Skilled workers,Modern equipment and a completed effective management.
Our customers are in Europe and South America ,North America,East aisa.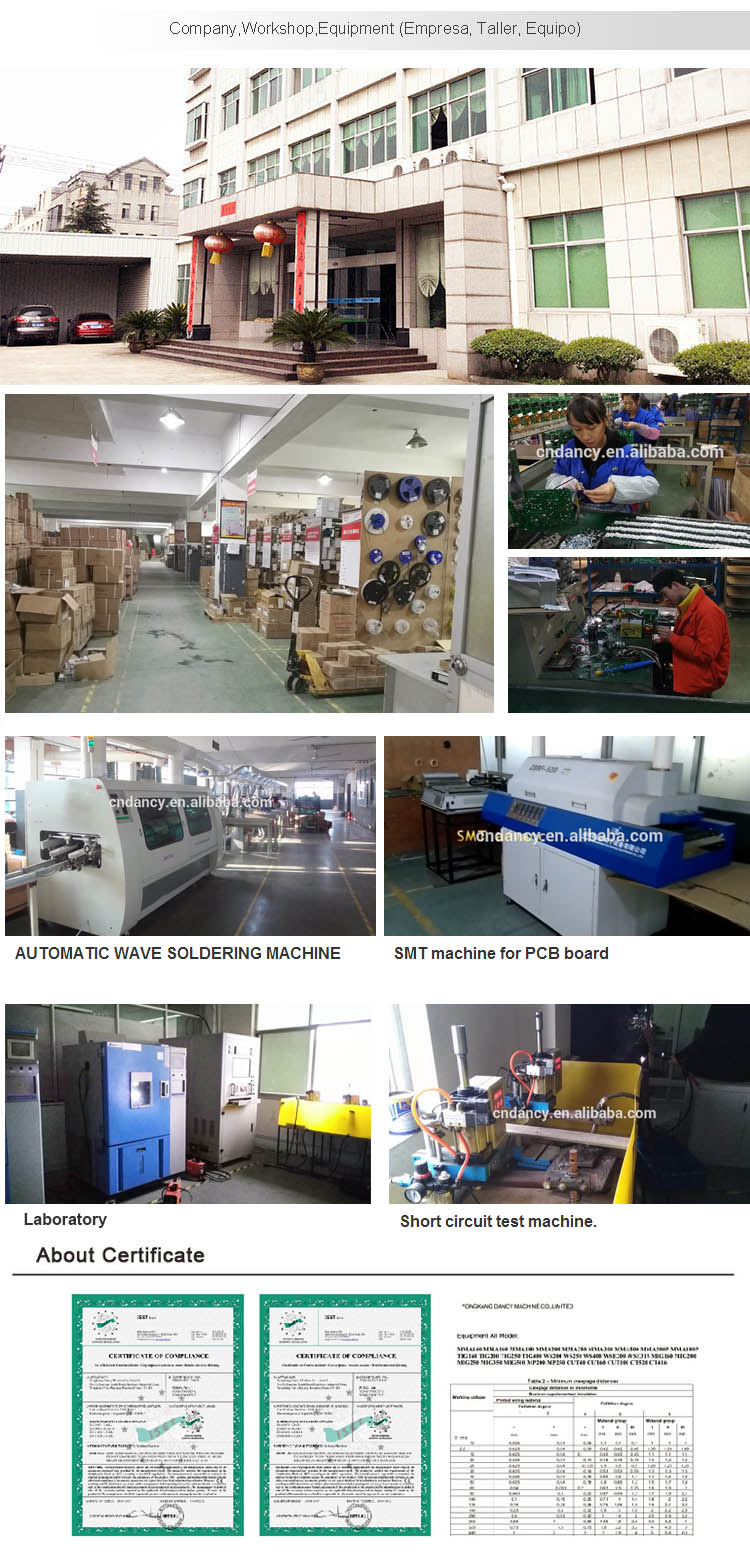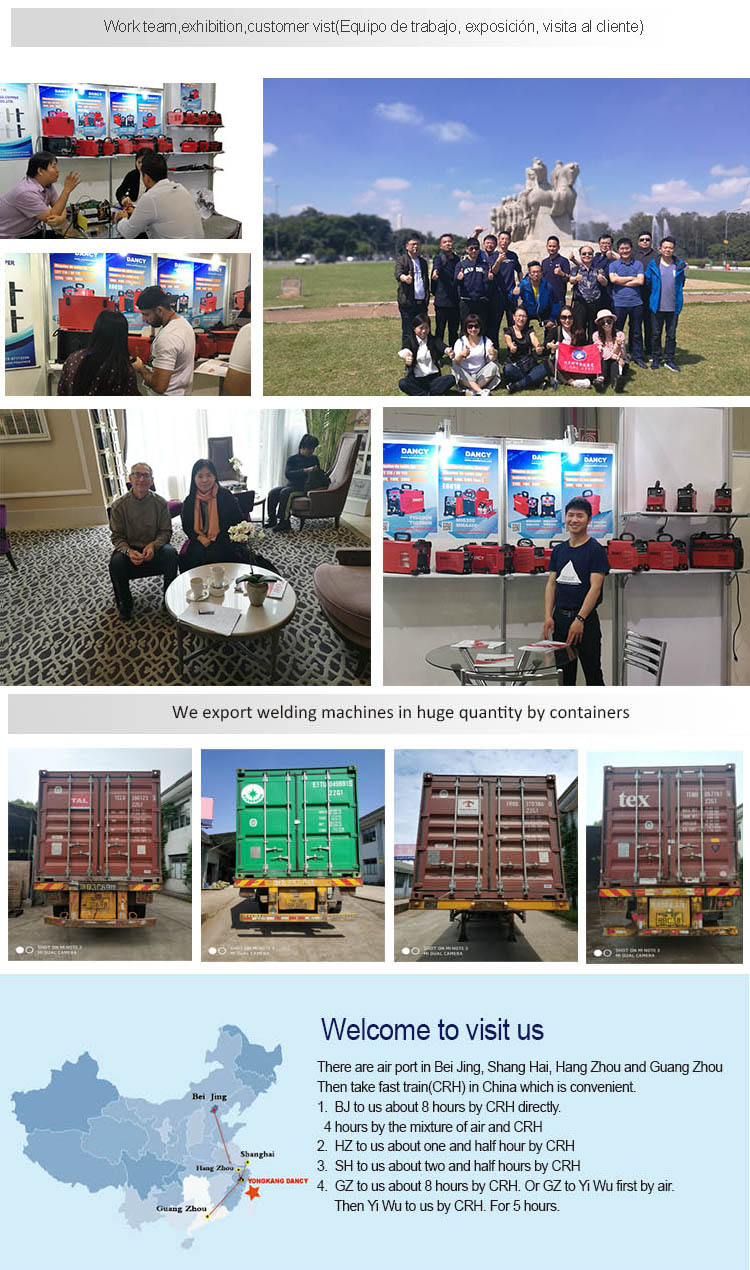 Groupes de Produits : Machine de soudage > Soudeur Mig